DUI Entry to Canada Team
Shabnam Akrami, PA, B.A. (HONS.), M.A., LL.B. (UK)
Managing Partner, Senior Immigration Consultant R510490
Shabnam Akrami is the Managing Partner and Founder of Akrami & Associates.
Prior to receiving her Paralegal Diploma with Honours, she completed her Law Degree from the UK at the University of London as well as completed a Post Graduate Diploma.
In addition, she has also graduated from York University where she received both her Bachelor in Criminology and Masters in Socio-Legal Studies.
She is a Paralegal in good standing with Law Society of Upper Canada and Consultant with the Immigration Consultants of Canada Regulatory Council.
Prior to opening her own firm, she gained extensive experience in corporate immigration law; specializing in work permits, temporary resident permits and rehabilitation cases.
She has in depth and hands on experience in all Canadian Immigration and Citizenship matters. These matters include preparation and submission of applications for permanent residence, work permits, NAFTA applications, labour market opinions, temporary resident permits, sponsorships, and business investors.
Shabnam is dedicated to all her clients and committed to the successful completion of all the immigration matters in her care.
---
Sean Azim, SEO
SEO, IT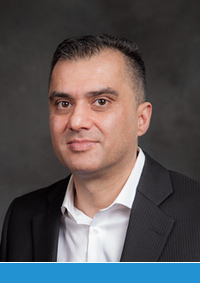 Sean Azim is the Search Engine Optimizer and I.T. expert at Akrami & Associates. He graduated from Seneca College with a Diploma in Computer Programming. Further, he received his General Arts and Science Pre-Business Certification through Trade and Apprenticeship studies at Seneca.
Prior to working with Akrami & Associates he worked at Viva Soft which is a business software development company. Sean worked there as a Programmer for two years.
Sean is committed to the expansion of Akrami & Associates through sound marketing and online strategizing. Further, he is always looking for ways to make the online client experience a smooth one.
---
George A.
Office Pet
George is the office pet. He has received no formal education however is an extremely fast learner. Prior to joining Akrami & Associates, he was busy lounging around and watching for the mail man to come by.
He enjoys long walks in the park and playing fetch. When George is not sleeping or playing with other Associates, he can be found curled up on the couch.
George looks forward to greeting you with a smile and freely accepts any petting you may offer.